Articles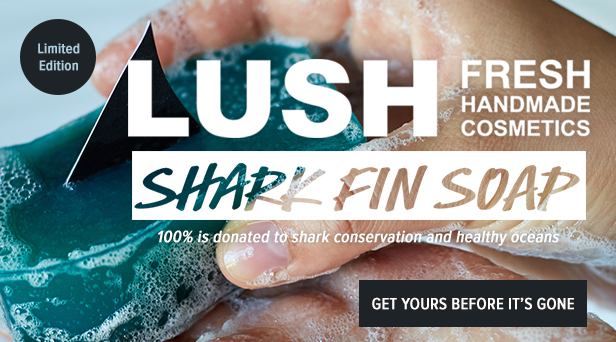 For a limited time LUSH has brought back their popular Shark Fin Soap for World Oceans Day. The blue wave-shaped bars adorned with a shark fin cost just 5.95 and are available across North America. This limited edition soap sells out quickly, so shop now in Canada or the U.S.
100% of the proceeds from LUSH's Shark Attack and Healthy Oceans campaigns will go to support shark conservation, facilitating shark fin bans globally, and save the world's oceans. 
An estimated 100 million sharks are killed by humans every year – that's over 11,000 every hour. Cruel and careless practices such as longline fishing have led to a 90% drop in shark populations in just 30 years – an unsustainable rate of decline that is turning apex predators into ghost stories and having a decimating impact on our oceans' ecosystems. Many sharks are used for various products we don't even realize contain shark, and more still are mutilated for their fins and then tossed back into the water to suffocate or be eaten alive. Now is the time to turn the tide on the demand for sharks – to stop consuming products that use sharks, and to call for a worldwide ban on all longline fishing and the possession of shark fins. 
Take the pledge to join this effort to #SaveSharks, stop the #SharkAttack, and go #FinFree today:
In Canada: www.lushusa.com/sharkattack
In French Canada: www.lush.ca/fr/attaquesderequins
In the U.S.: www.lush.ca/sharkattack 
Malibu, California (Friday, July 22 2016)
Teaming up with Pretoma Costa Rica, United Conservationists embarks on a campaign to help stop the consumption of shark fins and end illegal shark finning. Through three dedicated initiatives we donated $30,000 to help fund drone operators in the Cocos Islands, drones were donated by Precision Drone to help deliver the evidence we needed to expose illegal shark finishing. Not only were we able to help use this footage to catch illegal shark finishing but we also managed to capture some amazing footage for the Sharkwater 2; Final Extinction project.
From the funding we also helped to support "Say No to Eating Shark." Pretoma's project focuses on protecting Hammerhead sharks in Costa Rican waters through a number of activities including advocacy and policy work. Reaching the general public with the conservation message would help generate some debate and publicity for an iconic species and an urgent issue.
We also helped to send the leading shark fin identification experts in South America to help identify illegal fins moving through Panama along with run clinics for local enforcement to help educate them on the identification process. This helps us identify more illegal finning and which species of sharks are also the most at risk.
Toronto, Ontario (July 15th, 2016)
We are extremely happy to announce an amazing initiative to help the cosmetic industry to rid themselves of shark based squalene, a very common ingredient found in the majority of cosmetics whether olive oil or animal based. In the largest lab study completed to date on 80 different cosmetic products we've identified some brands which may contain shark based squalene. In conjunction with Bloom France we've tested over 80 cosmetics found in North America. The study has been completed at the University of Victoria Labs in Victoria BC. Testing will also be completed in Florida to verify our results and findings. We hope to release the results of our study at The Toronto International Film festival in September of 2017 along with the release of Sharkwater 2.
Follow us on Twitter or Facebook for updates on this excited initiative. Follow the hash tag #sharkfree.
Washington, DC (June, 24 2016)
On Thursday morning, award-winning actor and longtime Oceana advocate Morgan Freeman joined Oceana and members of Congress to announce the introduction of a new bill to ban the trade of shark fins in the United States.
In 2000 and again in 2010, Congress addressed the issue of shark finning in U.S. waters with the Shark Finning Prohibition Act (SFPA) and Shark Conservation Act (SCA), ultimately making it illegal to remove any fins from a shark at sea, transfer any fin from one vessel to another vessel, or land any fin that is not naturally attached to the corresponding carcass.
The United States took an important step towards reducing the shark fin trade worldwide. Oceana applauds the leadership of the bill's supporters in helping to end the shark fin trade in the United States.
For more information on the Oceana Bill please see their Press Release
Malibu, California (June 16, 2016)
United Conservationists will sponsor the Spicemas Queen Show and Carnival in Grenada to help bring awareness to the Fin Free program and Grenada's Legislation to become a global shark conservation leader.
Sir Richard Branson, Virgin Unite founder, said: "We applaud the steps taken by Caribbean island governments to conserve sharks in their waters. To these governments, sharks are worth far more alive than dead. We are delighted and encouraged to see this bold action being taken to protect Caribbean ecosystems and bolster ecotourism industries."
"St. Maarten and the Cayman Islands have joined a progressive group of leaders in global shark conservation by choosing to fully protect the diverse but vulnerable shark and ray species found in their waters," said Luke Warwick, director of Pew's global shark conservation campaign. "We look forward to continued expansion of shark conservation in the Caribbean to secure the region as a safe haven for threatened shark species."
For more information on Spicemas and PEW's involvement in making Grenada a Global Shark Sanctuary read these articles:
More Articles ...