Who we are
UC Team:
Founders
Rob Stewart:
Rob Stewart was an award-winning biologist, photographer, conservationist and filmmaker. Born and raised in Toronto, Canada, Stewart began photographing underwater when he was 13. By the age of 18 he became a scuba instructor and then moved on to earn a Bachelor of Science degree in Biology, studying in Ontario, Jamaica and Kenya.
While on assignment to photograph sharks in the Galapagos Islands, Stewart discovered illegal longlining, indiscriminately killing sharks within the marine reserve. At the age of 22 he left his career behind and embarked on a remarkable journey over four years and 12 countries, resulting in the epic Sharkwater.
Sharkwater made history with the largest opening weekend of any Canadian documentary, and was the most award-winning documentary of the year, winning over 60 awards at prestigious film festivals around the world.
In April 2013, Stewart completed his second film, Revolution, the first film to alert the world to the catastrophic effects of carbon emissions and the resulting Ocean Acidification. Similar to Rob's first film, Sharkwater, Revolution was highly successful having won numerous international awards at major international film festivals including Guam, Milano, and Santa Barbara.
Stewart was on the board of several conservation groups including WildAid, Shark Savers and the Shark Research Institute, and founded his own charity, United Conservationists, and the campaign Finfree, both based in Los Angeles and Toronto.
In January 2017, while shooting his third film, Sharkwater Extinction, Stewart tragically lost his life diving off the Florida Keys.
Sharkwater Extinction premiered posthumously at the Toronto International Film Festival, debuting to a standing ovation. The film was co-produced by his parents Brian and Sandy with the Sharkwater team who worked determinedly to complete the final film. It follows his journey to expose the massive illegal shark fin industry and the political corruption behind it, which is leading to the decimation of sharks in our oceans.
Sharkwater Extinction unveils the fact that endangered sharks are being added to many of our everyday products, even those intended for human consumption. Through the research put forward for this film it was discovered that liver oil was being disguised in our everyday cosmetics as an ingredient called squalene. Squalene is derived from deep-sea sharks and is highly sought for its anti-aging, moisturizing, skin protecting properties used in lipsticks, sunscreens, deodorants and many more everyday beauty products.
Awards in Stewart's name now include the Academy of Canadian Cinema; Planet in Focus provides the annual Rob Stewart Youth Eco-Hero Award, and Oakville's bursary to a student studying marine biology at Dalhousie is now at $65,000. Film festivals, universities and conservation groups worldwide continue to honour Stewart with lifetime achievement awards.
In 2019, the Rob Stewart Sharkwater Foundation was established to honor Stewart's legacy and continue his mission to save sharks and the world's oceans.
Board of Directors
Dustin Titus:
Dustin is a tech entrepreneur and a Digital Marketer with a foundation in facilitating the growth and development of communities online. His passions have been an outlet for Dustin to express his passion for technology, connecting with others, and helping amazing people and organizations accomplish inspiring things (such as working with Rob Stewart and Sharkwater since 2009). Outside of the office, Dustin is intricately involved in downhill and water skiing communities across the Canada – previously as a coach and ski pro, and currently as a Director for Water Ski Wakeboard Ontario. His favorite places in the world? Backcountry British Columbia and Morrison Lake, Muskoka, Ontario
Julie Andersen:
Few people leave successful marketing careers to pursue a passion for the oceans and in doing so, take on one of the hardest PR jobs on the planet. A passionate environmentalist, diver of 15 years and lover of the oceans, Julie evolved her special relationship with sharks to a new level after watching them disappear from her favorite dive spots. Now her business is saving them.
A lifelong entrepreneur, Julie has channelled over 14 years of professional experience in advertising into this mission. Having built a business from the ground up, with upwards of 40 employees and $7 million in yearly revenue in a few years time working for companies like AOL, Porsche, Citibank and Volkswagen, she brings a unique perspective and deep experience to the cause. Julie is now a full-time grassroots activist, having founded three non-profits - Shark Angels, United Conservationists and Shark Savers - during the past 5 years, and consulting to countless others including Sea Shepherd Conservation Society, PEW and WildAid.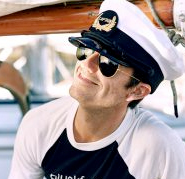 Brock Cahill:
Brock Cahill, Founder of SeaChange Agency first became aware of Rob Stewart when he saw the iconic photograph of Rob freediving with sharks. Shortly after that, he saw Sharkwater (2007) and it it inspired him to reach out to Rob and thank him for his pioneering efforts. Not long after that they became friends. Cahill and Stewart travelled to remote diving areas to find pristine blue water, in order to swim and photograph the elusive sharks. Brock and Rob were dive partners for the better part of ten years, and spent countless hours strategizing how to change the world, and save the ocean. Soon thereafter, Cahill founded the SeaChange Agency, a non-profit organization in 2010. It harnesses the collective power of the yoga and conscious community toward ocean conservation.
Stewart was a mentor to Cahill and encouraged his path into activism and oceanic preservation. Stewart is listed as a founding member, and served on the board of directors for many years. He continually reminded Brock that the camera, not the shotgun, is the greatest weapon that they have in the revolution to save humanity, and the world at large.
Brock is a Cinematic Activist and Preservation Tactician, aligned with the Intent of Nature, for The SeaChange Agency and Team Sharkwater.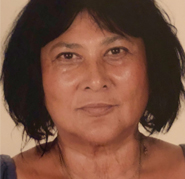 Vanessa Pereira:
Vanessa Pereira started her professional life working for Sir Peter Hall at the Royal National Theatre in London. She went on to assist director Roland Joffé, screenwriter Ronald Harwood and actors Lenny Henry and Dawn French, before becoming a Casting Director for films such as Hamlet (1996) and Elizabeth (1998). From there, she joined William Morris as a talent agent and represented actors globally. Vanessa was one of the original founders of Artists Independent Management with her partners in the UK, and opened the U.S. office in LA in 2004, continuing there to present. She continues to manage the actors whom she has represented for the past 20 years. Vanessa has always had a love affair with the ocean and all its beauty but it was her friendship with Rob Stewart that gave her a deeper understanding and appreciation — and now an urgent need — to rectify the escalating damage.